1969
Christo and Jeanne-Claude
Wrapped Coast
28 October – 14 December 1969
Little Bay, Sydney
Drawings and Collages
22 October – 8 November 1969
Central Street Gallery, Sydney
Wool Works
1–30 November 1969
National Gallery of Victoria, Melbourne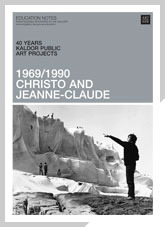 Download education notes (PDF 8pp)
Requires Adobe Acrobat Reader. Visit the Adobe website to download a free copy.
To understand our work one must realize what is inherent to each project.
Christo & Jeanne-Claude quoted in Christo and Jeanne-Claude Gasometer, Oberhausen 1999, Taschen, New York 1999
The texture and colour of the sand was strangely intensified, and the wind, by swelling and rippling the fabric, introduced movement and became an important adjunct in informing the wrapped coast with a breath of primeval life.
Alan McCulloch, 'Letter from Australia', Art International, January 1970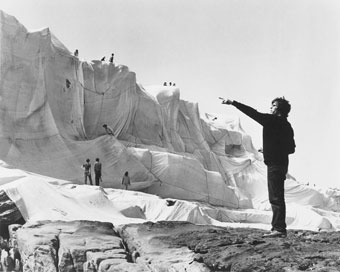 In 1968, John Kaldor, then a young textile designer, met Christo and Jeanne-Claude in New York, and bought a small Package (he had seen their work in a documenta 4 catalogue). While working for Universal Textiles in Australia, Kaldor had initiated the Alcorso-Sekers Travelling Scholarship, supporting travel and professional development for Australian artists. He requested permission for the scholarship to be used to bring an international artist to Australia and, subsequently, Christo and Jeanne-Claude were invited to visit to give a lecture. Instead, they proposed the concept for Wrapped Coast.
Little Bay, property of Prince Henry Hospital, is located 14.5 kilometres (9 miles), southeast of the centre of Sydney. The cliff-lined shore area that was wrapped is approximately 2.4 kilometres (1.5 miles) long, 46 to 244 metres (150 to 800 feet) wide, 26 metres (85 feet) high at the northern cliffs, and is at sea level at the southern sandy beach. One million square feet (90 000 square metres) of erosion-control fabric (a synthetic, woven fibre usually manufactured for agricultural purposes) was used for the wrapping, along with 56.3 kilometres (35 miles) of polypropylene rope, 3.8 centimetres (1.5 inches) in diameter. Ramset guns fired 25 000 charges of fasteners, threaded studs and clips to secure the rope to the rocks. Ninian Melville, a retired major in the Army Corps of Engineers, was in charge of the workers at the site. Over four weeks, it took more than 100 workers (including 15 professional mountain climbers) and 11 volunteers (architecture and art students from the University of Sydney and East Sydney Technical College) in excess of 17 000 hours to complete the work. Opened on 28 October 1969, many thousands of visitors travelled to the coastline to see the project during the weeks the coast was wrapped.
To raise funds for the project, an exhibition was held at Sydney's Central Street Gallery, which included Christo's preparatory drawings, photographs by Harry Shunk of Wrapped Coast in progress, and a work entitled Wrapped Hay, comprising hay bales packaged in black plastic.
In addition, Wool Works was created at the National Gallery of Victoria in Melbourne in November 1969, with wool bales arranged in the gallery and in its Murdoch Court.
Read more about Christo and Jeanne-Claude.
Watch video of Christo and Jeanne-Claude Wrapped Coast on the Kaldor Public Art Projects website.
WORLD EVENTS
Woodstock three-day music festival held in the US
Neil Armstrong becomes first man to walk on the moon
Millions march in Vietnam moratorium protests in the US
Monty Python's Flying Circus series debuts on UK TV
Sesame Street series debuts on US TV
Gilbert & George first present The Singing Sculpture, in London
First issue of Art-Language: The Journal of Conceptual Art published

Sol LeWitt publishes the essay 'Sentences on conceptual art'
Joseph Kosuth publishes the essay 'Art after philosophy'
Harald Szeemann's first exhibition of conceptual art in Europe, Live in your head: when attitudes become form, opens at the Kunsthalle, Bern
1st Kaldor project Christo and Jeanne-Claude create Wrapped Coast at Little Bay in Sydney and Wool Works at the National Gallery of Victoria, Melbourne, while an exhibition of Christo's drawings and collages is held at Central Street Gallery