1995
Jeff Koons
Puppy
12 December 1995 – 17 March 1996
Museum of Contemporary Art, Sydney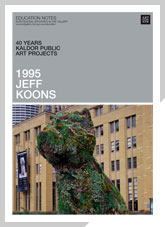 Download education notes (PDF 7pp)
Requires Adobe Acrobat Reader. Visit the Adobe website to download a free copy.
I'm always trying to create work that doesn't make viewers feel they're being spoken down to, so that they feel open participation.
Jeff Koons, Artforum International, vol 41, March 2003
This giant topiary toy telescopes the old and new baroque, mixing memories of the kind of fantastic garden follies which were meant to dazzle the absolute monarchs who could afford them with the most deliriously deviant branches off that old tree, whether the flower floats at the annual Rose Bowl pageants or the animal-shaped hedges that greet visitors to Orlando's Disney World.
Robert Rosenblum, Artforum International, vol 39, December 2000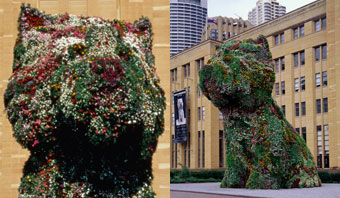 Topiary is an old-fashioned form of gardening art that goes back to Roman times. It is found in specialised private gardens or in formal parks and botanical displays, where dense shrubs or trees are clipped to resemble statuary such as birds, nymphs or urns. In 1962, Walt Disney recreated his cartoon characters in landscape shrubbery throughout his theme park. The Johnny Depp character in the 1990 Tim Burton film Edward Scissorhands had a natural gift for topiary. Jeff Koons has advanced this old medium into an artwork on an epic scale.
Puppy is a 12.4 metre (43 foot) tall topiary sculpture of a West Highland White Terrier puppy executed in a variety of flowers on a steel substructure. The first of Jeff Koons' public sculptures, it was originally created in a smaller version for a site outside a baroque castle in Arolsen, Germany in 1992 but the foundations included wood and the design didn't last; it was destroyed at the close of that exhibition. The version that now stands outside the Guggenheim museum in Bilbao, Spain, is the one designed and created on Sydney Harbour at the Museum of Contempoary Art in Sydney in 1995 as a Kaldor project. The Sydney Puppy held around 60 000 plants (the Arolsen Puppy had 20 000). It took many months to create: flowers were grown offsite to order and 3D computer modelling was used to construct a stainless steel armature, covered in hand-moulded wire-mesh, which was then lined with soil and fitted with an internal irrigation system. A highlight of the 1996 Sydney Festival, it was an extraordinarily popular and memorable work.
Is Puppy perhaps an echo of the six-metre-high Christmas trees that Koons' father, Henry, a successful interior decorator, enjoyed covering with glossy balls?
Believe it or not, just before the official inauguration of the new Guggenheim museum in Bilbao in 1997, Spanish police foiled a plot by three terrorists to blow up the giant Puppy floral sculpture outside the building. Disguised as gardeners, the men planned to carry out their mission with exploding flowerpots, designed to be triggered by remote control. A policeman was shot dead before two of the flowerpot men hijacked a car at gunpoint and fled, only to be arrested later.
Read more about Jeff Koons.
WORLD EVENTS
First centenary of the moving image
CD-ROM can now carry a full-length feature film
Sony demonstrates a flat-screen TV
Release of film Pulp fiction, directed by Quentin Tarantino, which wins the Palme d'Or at Cannes
Timothy McVeigh bombs an Oklahoma City federal building, killing 168 people
William Robinson wins the Archibald Prize with Self portrait with stunned mullet
Loti and Victor Smorgon Collection of Contemporary Australian Art gifted to Sydney's Museum of Contemporary Art
10th Kaldor project Jeff Koons' Puppy created outside the Museum of Contemporary Art in Sydney, accompanied by an exhibition of Kaldor projects, John Kaldor's collection, past Koons works and documentation of the making of Puppy