40 years: Kaldor Public Art Projects
2 October 2009 – 14 February 2010
Level 2 Contemporary Galleries
Admission free

In 1969 artists Christo and Jeanne-Claude came to Sydney and wrapped the rocky coastline at Little Bay, 2.5 kilometres of coast and cliffs up to 26 metres high. It was the largest single artwork that had ever been made and one of the first major land art projects anywhere in the world. It was also the first of a series of projects realised by art patron John Kaldor.
Now, the Art Gallery of NSW is celebrating 40 years of groundbreaking contemporary art from Kaldor Public Art Projects in an exhibition containing archival material, photographs and unique television footage.
Some of the most ambitious and internationally famous of the 19 projects will be part of this exhibition, including works by Christo and Jeanne-Claude, Gilbert & George, Sol LeWitt, Jeff Koons, Nam June Paik and Charlotte Moorman.
To coincide with the exhibition, Kaldor has invited Japanese artist Tatzu Nishi to complete another ambitious project, which transforms the front of the Gallery. More information...
Supported by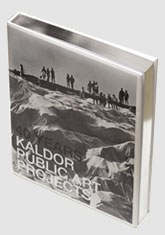 40 years: Kaldor Public Art Projects book
Details the history of the Kaldor projects since 1969. Available from the Art Gallery of NSW and through bookstores Australia-wide.